Why Speak at CEC?
The Contact Experience Conference (CEC) brings together call center, contact center and customer service practitioners, managers and vendors to share their knowledge through forward-thinking, thought-provoking sessions.
Contribute to our industry's collective knowledge about call centers, contact centers, customer service and its influence on the general public by presenting your experiences. Share your "school of hard knocks" experiences, your understanding of implementation issues and your success stories.
Some of the reasons to speak at CEC include: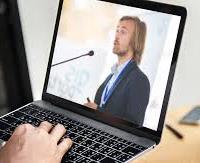 Submit an online speaking proposal no later than July 19, 2021!
Free Attendance to Sessions
As thanks for speaking and sharing their knowledge, speakers will receive a complementary registration fee to the conference and will have access to all of the recorded sessions, synced with the slide decks, from each concurrent speaker.

We hope you'll consider sharing your expertise and contribute to the healthcare industry's collective knowledge. In return, we will all be better equipped to lead the advancement of your organization's customer service experience landscape.

CEC is virtual so there is no need to travel to another city or spend part of your budget on travel, hotel and other associated expenses. This is a great way to interact with your colleagues and peers and to learn from your desktop or laptop. Our goal is to make this virtual conference a true interactive experience.