Healthcare Analytics and Marketing Membership
Sign up for Free!
Make Greystone Engage part of your suite of educational resources! The trial ends January 31st so take advantage of this membership while you can!
For Healthcare Professionals ...
with disciplines in digital marketing, communications, public relations, market research, business development and other related areas.
How is the Engage Membership Different?
Engage is the only healthcare digital marketing focused offering that includes healthcare website benchmarks in an extensive web analytics dashboard with peer and national comparisons of Google Analytics data, staffing budget, etc. And, all of that is combined with custom analytics dashboards of data from Greystone's timely digital marketing-focused surveys.
Engage also keeps members connected and current, sharing knowledge with colleagues, peers and industry leaders and keeping up with industry trends and market developments. Engage also provides an on-demand video library, document sharing, polls, industry news, group discussions, a jobs board, vendor search and more. This is a complete educational package designed specifically for digitally-driven healthcare organizations.
Top Reasons to Join this Membership for Healthcare Marketers:
Position yourself as a digital leader in healthcare
Keep up with digital trends in the industry through survey data and educational documents
Get resources on best practices and benchmarking data such as, marketing budgets, FTEs, peer and competitor analytics and Google analytics data
Access to tools and resources that will allow you to compare perform better in the workplace
Make connections that will last a lifetime. Engage in discussions through the Engage community
Additional consulting and analysis services available for organizations who need a little more guidance
Thanks for joining Engage! Your next step is to talk with a Greystone representative.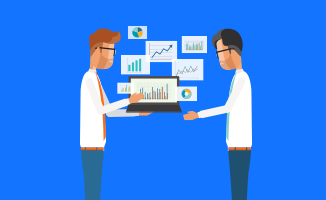 Collect
Greystone collects a little more information so that you get the most out of your membership experience. Connecting your Google Analytics account and defining your hospital demographics is part of this discussion.

Access
Once your configuration set-up is complete, you will have access to analytics that provide trending data, comparisons to peer groups and so much more.

HCIC Discount
You receive a conference discount to the Healthcare Internet Conference. This hospital conference discount will provide you access to healthcare Marketers, Web leaders, IT professionals and Strategists where you can learn and analyze "best practices" on a range of issues from the faculty, attendees and their vendor partners.
Analytics Dashboards
All membership plans include healthcare analytics support and analytics dashboards that provide peer and national comparisons and healthcare website benchmarks of Google Analytics data, staffing budget, etc., and custom analytics dashboards that provide you with goal-focused results. This will be your hospital marketing analytics resource.
Survey Data
As a member, you can provide your responses to Engage Surveys on timely subjects such as mobile, CRM investments, staffing trends, design trends, etc., and in return, get access to the survey results in the membership dashboard, as they become available. You will also have access to the yearly Digital Marketing Survey that is part of an effort to better understand how healthcare marketers are reaching out to actual and potential customers in the membership dashboard.


Video Archive
A valuable component of this membership is the digital marketing case studies for hospitals and best practice resources that includes hundreds of Backstage Pass webinar and HCIC audio recordings. With access to this hospital case study library, share with colleagues, re-watch sessions to make note of key points, or review concepts for a better understanding of the subject matter.
Document Library
All levels of the membership include file sharing, where you can build a knowledge base of best practices by sharing documents with peers.
Communities
Form your own community and/or connect with friends, colleagues and experts to ask questions, seek advice and network.
Member Directory
Grow your network of colleagues with a directory of members to connect and share knowledge and perspectives with each other on the latest healthcare trends and topics.
Vendor Search
Users are able search, compare and rate digitally-focused companies. This is an invaluable source to identify key features important to your organization and provide information needed to make informed decisions for your hospital.
Budget & Staffing
As a member, you receive an analysis of your organization's existing web organizational structure and staging resources (Plus Level and higher). This analysis and advice can be used to build recommendations and a rationale for an efficient organization structure and the needed hospital marketing staff resources.
Website Analysis
A hospital web analysis of your health system's existing public-facing website is included with your membership at intermediate Level and higher.
Competitor Comparison
The Advanced and Ultimate membership levels include an analysis of your existing public-facing website compared to two hospital competitors or peers of your choosing. This hospital competitor comparison and hospital peer comparison is based on a review of nearly 30 categories of content and functionality, using a standard scoring matrix and defined set of criteria.
Interviews & Recommendations
The Ultimate membership level includes up to five interviews with key hospital administrators to determine their current perceptions and expectations of your digital footprint. Also included are high level digital recommendations for your hospital.