David A. Feinberg

Vice President, Chief Marketing Officer
NewYork-Presbyterian Hospital
David A. Feinberg brings over 30 years of consumer and healthcare marketing experience to his current position as Vice President and Chief Marketing Officer for NewYork-Presbyterian Hospital.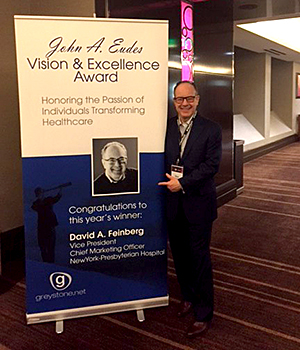 He is responsible for the development and implementation of marketing, advertising, physician referral, Internet, and visitor information strategies for one of the nation's leading academic healthcare institutions.
Prior to joining NewYork-Presbyterian Hospital, Mr. Feinberg led the healthcare practice of The Seiden Group, an advertising and marketing firm, helping to develop strategies and programs for clients such as Norvartis and Bayer. His other previous experience includes Ciba-Geigy, where he helped establish their consumer division; Biocyte, an early-stage pioneer in the field of cord blood stem cells; Procter & Gamble and Clairol.
Mr. Feinberg obtained his undergraduate degree in Economics from the Wharton School of the University of Pennsylvania and his Masters from Northwestern University's Kellogg School of Management.
A prolific speaker, Mr. Feinberg is a member of the American Marketing Association.