The Voice of the Digital Customer Survey
Greystone.Net offers a growing suite of services and products to help the healthcare organization discover and understand the voice of the digital customer.

What is gSight?
Suite of digital improvement tools, developed by Greystone.Net, healthcare's premier digital consulting firm, partnered with Klein & Partners, a leading healthcare market research and brand consulting firm, that capture the Voice of the Digital Customer in order to help prioritize and focus website improvement and enhancement efforts including:
Healthcare pop-up website survey tool
User-friendly dashboard and reporting tool
User behavior tracking tool
Expert consulting services, and more…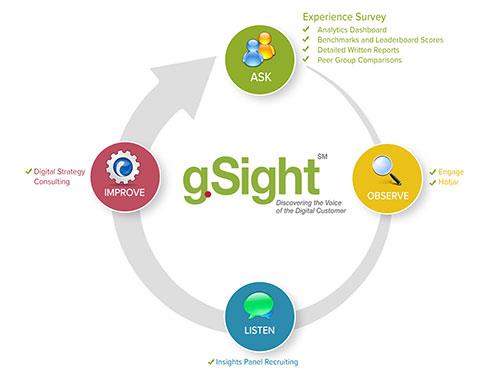 gSight:
Provides focus on "where" to prioritize website improvement efforts
Measures changes in the experience after a website redesign
Measures how your website experiences are impacting your overall brand
Records and reporting on the Digital Voice of the Customer for your organization.
Why gSight?

Saves budget dollars – one survey that works on desktops, smartphones and tablets for a single affordable price.
Mobile friendly - has specific options and processes to encourage use on mobile devices, including a responsively-designed and customized survey invitation for mobile users.
Provides continuous and unlimited survey completes, with the flexibility to turn on and off when needed.
Online real-time easy-to-use reporting dashboard with options for drilling down to further explore needs and improvement areas.
Puts survey respondents in charge of what aspects of the website experience need improvement – allowing you to listen to the digital voice of the customer.
Detailed benchmark reports with recommendations from industry experts.
Healthcare-specific benchmarks and statistically-derived leaderboard scores to determine how you compare to others.
Verbatim responses provide specific feedback, giving you timely, candid, real-world details about their digital experience and interaction with your brand.

Why use gSight? Hear a few reasons from one of our clients, Andy Gradel, Main Line Health.
DASHBOARD REPORTING
Data is collected and clients can view real-time.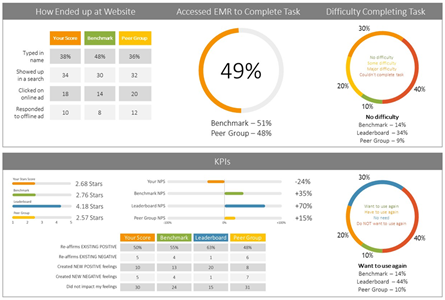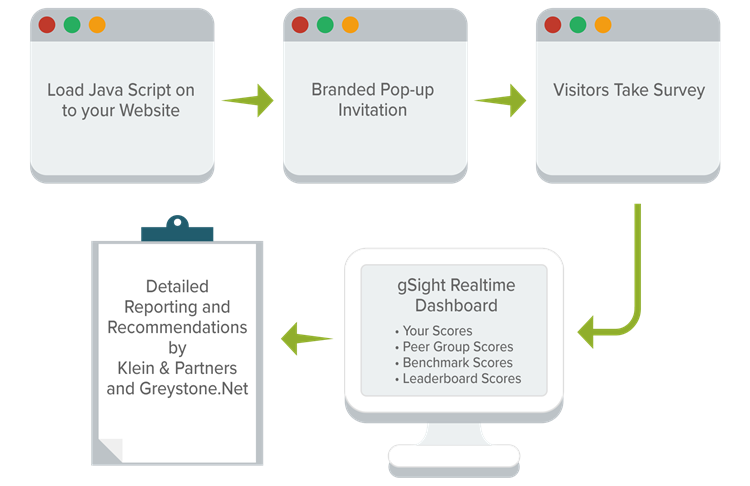 These whitepapers discuss how gSight, an online Web experience survey and analytics tool,
can help manage the digital brand experience.
View the blog postings about gSight
in the Greystone Journal.


View industry news articles about the
Voice of the Digital Customer.

Hotjar Heat Mapping and More
As an affordable add-on option, gSight clients can opt-in to include Hotjar to their gSight account. Hotjar is a feedback and analytics tool that allows you to understand what users want and care about, and how they interact with your site by visually representing their clicks, taps and scrolling behavior. Hotjar is a great way to pinpoint details of the actual user experience (heatmaps, video, etc.) and identify ways to improve it.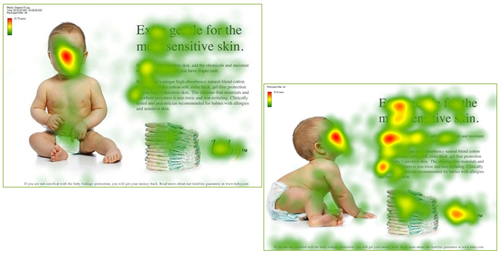 Key Benefits:

Understand what users want, care about and do on your site by visually representing their clicks, taps and scrolling behavior – which are the strongest indicators of visitor motivation and desire.
Eliminate guesswork with recordings of real visitor behavior on your site. Our healthcare website usability testing tools allow you to see your visitor's clicks, taps and mouse movements; you can identify usability issues on the fly and issues they encounter, identify usability issues by allowing you to watch recordings of real visitors on your site.
Understand where your visitors are dropping off and improve online form completion rates.
Use polls to understand the reasons behind behavior. Use these healthcare website surveys to target questions to specific visitors anywhere on your web and mobile site.
Recruit the best possible participants for user research and testing directly from your site. Collect profiling information, contact details and offer a gift in exchange for their help.

Pricing and More Information
Can We Provide More Information or Tailor a Quote for You Based on Your Needs?
Success! Thanks for filling out our form! A gSight team member will respond to your request soon, no later than the next business day.