Dr. Dalal Haldeman

Senior vice president of marketing and communications
Johns Hopkins Medicine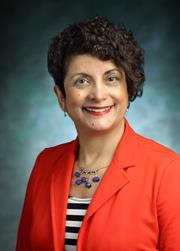 Dr. Haldeman is the senior vice president of marketing and communications for Johns Hopkins Medicine, the organizational umbrella for the Johns Hopkins School of Medicine and the Johns Hopkins Health System. She is responsible for overall brand extension, strategic marketing and communications, consumer and market research, market analysis and planning, marketing, media relations, communications, publications and internet strategies in the regional and global market.
Before joining Hopkins in 2006, Dr. Haldeman spent 12 years at the Cleveland Clinic and the Cleveland Clinic Health System, which included 11 hospitals in Ohio and Florida and national and international partnerships. She served in multiple roles, including director of marketing operations, strategic marketing, and interactive communications for the Cleveland Clinic Health System, as well as vice president of Pediatric Medical Management and director of marketing and business development at the Cleveland Clinic Children's Hospital for Rehabilitation. She oversaw strategic planning, business plan development, managed care contracting, medical records, marketing, public and media relations, quality outcomes and risk management, corporate compliance, and medical staff development and integration.
Before joining Children's Hospital, Dr. Haldeman served as a consultant and associate vice president with Sterling Health Capital Management in New York, where her responsibilities included program design, strategic planning, and business plan development.
Paving the way for all of her future roles were Dr. Haldeman's positions at MetroHealth System in Cleveland. As the system's director of clinical nutrition and ambulatory services in the late 1980s, she managed a 250-member staff and a budget of $11 million. She was instrumental in building customer satisfaction through service delivery. Promoted to executive director of quality for the system, she served as a member of the leadership team.
Throughout her career, Dr. Haldeman has held academic appointments both in Lebanon and in the United States. A clinical instructor, research associate, and assistant professor at the American University of Beirut, she later served at Pennsylvania State University and the University of Pittsburgh, where she was responsible for graduate teaching, research, and program development and implementation. She also was instrumental in developing the first American Dietetic Association-accredited dietetics program in the Middle East and conducted government briefings and workshops aimed at improving the nutrition and health of children.
Dr. Haldeman holds a Ph.D. in Food Science and Nutrition from Pennsylvania State University and an M.B.A. from the Graduate School of Business Administration at Cleveland State University. She has served in leadership positions on the boards of many professional organizations, including the Epilepsy Association, the Society for Healthcare Strategy and Market Development, Central Hospital Services, the Institute for Creative Leadership, and the Healthcare Executives Association of Northeast Ohio.