ENGAGE: A Healthcare Analytics & Online Forum
Engage is a membership group for healthcare professionals with responsibility for web development, web management, social media, digital marketing, data management, CRM, analytics, communications, public relations, market research, business development and other related areas.
Top Reasons Why Healthcare Marketers Should Join Engage:
Gain insights to help position yourself as a digital leader in healthcare inside and outside of your organization
Keep up with digital trends in the industry through access to unique and proprietary survey data and educational presentations
Access resources on best practices and benchmarking data such as marketing budgets, staffing levels, peer and
competitor performance analytics and Google analytics data

Access to tools and resources that will help you perform better and garner stronger outcomes
Make long-lasting industry connections
Participate in discussions through the Engage online community - share your insights and be able to ask for advice from your peers and colleagues
Additional consulting and analysis services available for organizations who need a little more guidance
Receive Healthcare Analytic Competitive Comparisons
Sign up for Engage and speak with a representative!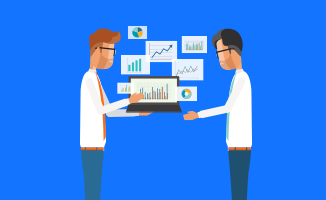 Collect
Greystone collects a little more information so that you get the most out of your membership experience. Connecting your Google Analytics account and defining your hospital demographics is part of this discussion.

Access
Once your configuration set-up is complete, you will have access to analytics that provide trending data, comparisons to peer groups and so much more.

Library of Case Study Videos:
A valuable component of this membership is the digital marketing case studies for hospitals and best practice resources that includes hundreds of Backstage Pass webinar and HCIC audio recordings. With access to this hospital case study library, share with colleagues, re-watch sessions to make note of key points, or review concepts for a better understanding of the subject matter.